In the early '80s urban music pioneers began artfully scratching, slowing down, and reversing LP records, giving rise to the DJ art form. It was only natural that the turntable would emerge as their primary creative tool: The LP record was still the most widely used format for listening to music, and there was at least one turntable in just about every household. In the ensuing 25 years consumers abandoned their turntables and LP records, first for cassette tapes, then CDs, and now, mp3 files and the immensely popular iPod. Yet the sonic effects achieved by a deft hand manipulating an LP still define the DJ's craft. Harnessing this advancing digital technology while facilitating analog-based performance techniques has created what Jack O'Donnell describes as a "transitional" period in the DJ market. As CEO of the Numark Group, he enjoys a unique vantage point. Aside from being a leading purveyor of DJ gear, the organization also serves as a corporate umbrella for the Alesis and Akai product lines.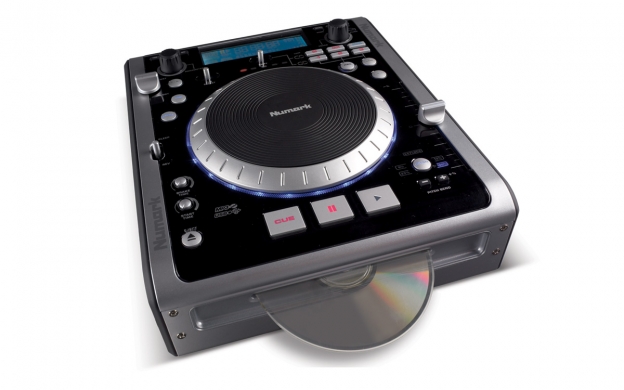 To grasp what O'Donnell means by "transitional," you only have to take a cursory look at the dramatic expansion of the Numark product line. Fifteen years ago the company effectively served the market with a selection of traditional turntables, phono cartridges, and analog DJ mixers. Today the market requires a much broader product range. Traditional turntables, like the popular TTX model are still very much in evidence in Numark's product lineup. However, there are also a dizzying number of products that marry traditional turntable feel with various digital storage formats. There's the new HDX, which combines a removable 80-gigabyte hard-disk and a standard size turntable platter, allowing the DJ to transport thousands of songs to a job and still enjoy traditional turntable performance. The iDJ and the iDJ2 are slick, portable units that turn a standard iPod into a full-featured DJ rig. Debuting at Summer NAMM is the iCDX, a control surface that enables the DJ to scratch, loop, and play songs from any device equipped with a USB port, whether it's a laptop or a portable disk drive. The HD MIX is a self-contained system combining a hard drive, two jog wheels for scratching, and a mixer, centralizing all DJ controls and music in a single, portable unit. And, then there are over a dozen rack-mounted variants that offer different combinations of scratch capabilities and digital storage formats.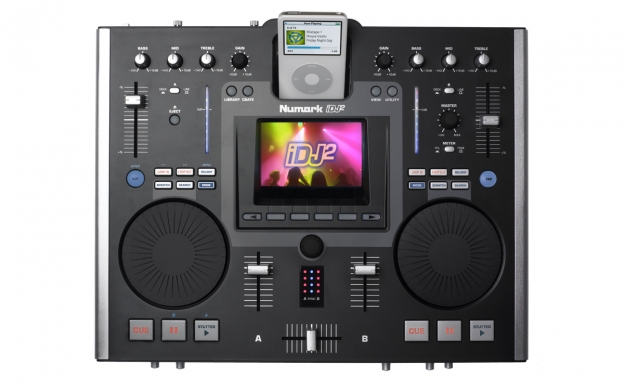 Assessing this varied product selection, spread out in a conference room at Numark's spacious headquarters in Rhode Island, O'Donnell steers clear of expressing personal preferences and refrains from sweeping predictions about the future of the market. Part of this stance is the by-product of humility acquired in over two decades of product management. "Fifteen years ago I predicted that the phono cartridge would be dead in five years," he jokes. "It's still an important part of our business today and I'm a little less willing to make predictions." More importantly though, his outlook reflects the conviction that DJs, along with the R&D staff at Numark, are still in the process of sorting through the different product configurations and have yet to render a verdict on the optimal format.
"The first generation of DJs grew up working with the most common form of playback of the day, the turntable," he observes. "The newer crop of DJs has grown up in the world of digital music formats and have an entirely different outlook. Our job is to offer products for both groups, as well as those users who occupy a middle ground. That's why there are so many products in our line. We can't foresee the next format, so we experiment, listen to our customers with an open mind, and remain flexible."
While O'Donnell may not be entirely clear about what the ideal DJ rig will look like in five years, he has no doubt about what Numark needs to do to remain successful. In short, it all comes down to a heavy investment in digital technology and R&D. He says that in the "pre-transition" era any distributor could link up with OEM manufacturers in Taiwan, make some modifications on consumer audio products, and come up with a reasonably competitive DJ line. It's not that easy anymore. Existing consumer audio products no longer lend themselves to DJ applications. (Ever try scratching or reversing a tune on an iPod?) This forces companies like Numark to develop a much higher level of engineering expertise. "The digital signal processing capability that allows you to manipulate a stream of digital audio and scratch, play backward, or change tempo in real-time is not something that you can buy off the shelf," he explains. "You need a lot of in-house engineering skills."
O'Donnell was one of the first in the industry to recognize this need for advanced R&D capabilities, and over six years ago, began positioning Numark with series of strategic investments and acquisitions. In 2001, he purchased Alesis, a pioneer in digital effects processing and recording technology. In late 2005, he acquired Akai, the company that virtually invented digital sampling. Akai and Alesis continue as strong product lines in their own right, and a conscious effort has been made to maintain each brand indentity. However, marrying three product lines under a single corporate umbrella has provided a foundation of digital expertise. This capability is evident both at Numark headquarters in Rhode Island and at the company's engineering facility in England. It's also reflected at Wavefront Semiconductors, an independent subsidiary based in Seattle that develops digital microprocessors for other music products manufacturers.
Pooling the engineering resources has resulted in a range of potent synergies. Some are straightforward, like being able to order Motorola microprocessors in higher volumes to get better pricing. Others are less obvious, like developing cross-platform operating systems that can manage effects processing in products ranging from an Alesis Fusion workstation to an Akai MIDI sequencer. Most importantly, this collective R&D effort has spawned a steady stream of innovative new products that open creative horizons and generate new sales opportunities for retailers.
Under Alesis banner, the company is offering a line of products that taps into the growing interest in "podcasting": posting on the internet for downloading. At Summer NAMM, Alesis will be exhibiting two complete podcasting kits, one based on Firewire, the other on USB, that offer everything you need to mix and record eight channels of audio for placement on the web. O'Donnell says that this new product category will appeal to a nearly limitless range of users. "Just about anyone could find a use for this," he contends.
At Akai, advanced technology is evident in the new MPD24 USB/MIDI Pad Control Unit. The new unit borrows the velocity and pressure sensitive pads that made Akai's previous "Music Production Centers" the standard among hip-hop performers. However, it can interface more effectively with external storage devices, making it virtually impossible for DJs or producers to run out of space for their assigned sound.
Numark is pushing the product envelope with new applications that enable the DJ to seamlessly incorporate visual images with music. The NuVJ video controller is the first offering in what promises to be a rapidly expanding family of products. Designed in partnership with ArKaos, a leading developer of video processing software, the NuVJ console allows DJs to trigger images and video clips, add effects to them, and mix them with a cross-fader tool that looks a feels like a standard DJ mixer.
The hardware controller works seamlessly with existing DJ gear and the software is compatible with most computers and laptops. "In the past, the ability to incorporate video With music was constrained by the cost of processing power," says O'Donnell. "Now that that's no longer an issue, we're working to create an entirely new video-based product category. Every DJ isn't going to rush to incorporate video, but for some, video can be a beautiful complement to the music. We think this has tremendous potential."
Over the past three years retailers have reported that the DJ market has suffered from flat sales. O'Donnell shrugs off the complaint, in part because Numark's sales have been on a steady upward curve, but also because he feels that the market is on the cusp of significant growth. Drawing an analogy with the consumer electronics business, he relates, "Five years ago, if you talked to any big electronics retailer, they would tell you that their television business was dead. Consumers were content with their Sony Trinitrons and didn't see any reason to upgrade. Then you had the introduction of these great flat screen plasma televisions, consumers got excited, and all of a sudden, televisions became the industry's hottest product category." Can Numark's expanding array of digital DJ gear have a similar affect on the DJ market? O'Donnell answers with an emphatic affirmative. "We're not just reacting to market trends, we're creating trends with innovative new products," he says. "Our current array of gear, not to mention the stuff we have in the pipeline, will bring people into stores and spark demand. We are giving DJs reasons to upgrade their rigs."
Throughout his career, Jack O'Donnell has demonstrated an uncanny sense for harnessing technology to address consumer needs and wants. In the late '80s, as a vice-president of Stanton Electronics, he was one of the first to appreciate the emergence of the DJ market, and tried to persuade his superiors to address it. When they shrugged off his suggestions, he acquired Numark and pursued the market himself. With similar acumen, he identified opportunities at both Alesis and Akai that others in the industry overlooked. Given this track record, his bullish forecast for a coming DJ boom deserves more than a respectful hearing.